Andy Lee, PhD MBA L.Ac, Founder & CEO
Dr. Andy Lee is a renowned expert in revolutionizing medical practices with advanced technology. He brought his top intelligence and years' scientific training into this ancient wisdom of macroscopic symptom-driven logics of Chinese Medicine. His medical specialties include cancer and cancerous tumors, heart disease, diabetes, arthritis, severe allergy, and other chronic conditions.
Before his father's liver cancer woke up his Silicon Valley fantasy and changed his life to helping people of medical needs, Dr. Lee was a seasoned executive and investor in the high-tech industry. He was the Managing Director of Berksford Investment and Strategy, and managed Maitreya Fund I LP. Before that, he served as the CFO and VP of Corporate Strategy at EiC Corporation, and the co-founder and CTO of TeleVersal Systems.
Dr. Lee holds a Ph.D. and M.S. in Electrical Engineering from Stanford University, a B.S. in Physics from National Taiwan University, and an MBA from the University of California, Berkeley. While he learned the practice of Chinese Medicine mainly from the world renowned expert Mr. Hai-Sha Ni and remains as his most appraised apprentice, Dr. Lee also earned his M.S. in Chinese Medicine from the University of East-West Medicine, and is licensed to practice Chinese Medicine in California.
Currently, Dr. Lee is appointed as a Visiting Scholar at Stanford University investigating technology applications to medicine, and also an expert adviser to the Beijing city government for Information Technology for Healthcare.
---
Adam Wang,  L.Ac,  M.S. in Chinese Medicine, B.S. in Biology
As a biology major at college, I felt a natural bond with living things. I believe every living being has its value in nature. We all come to the world to fulfill our destiny and serve some purpose.
When I was young, I was easily caught by illnesses. Western medicine had no solution, so my family turned to traditional Chinese Medicine which greatly improved my overall health. Chinese medicine since then laid a latent seed inside me, later guiding me to become a professional in this fascinating world.
At youngQi Clinic, it has been my great pleasure working with the brightest minds in this field. With my experience at clinic, I can not help pondering how people live and think impacts their physical and mental wellness. Doctors can treat diseases, but it is hard to change how patients think and how they choose to live their lives!  Make wise choices! Be happy and live well!
---
Selena Chang,  L.Ac,  M.S. in Chinese Medicine, B.A. in Anthropology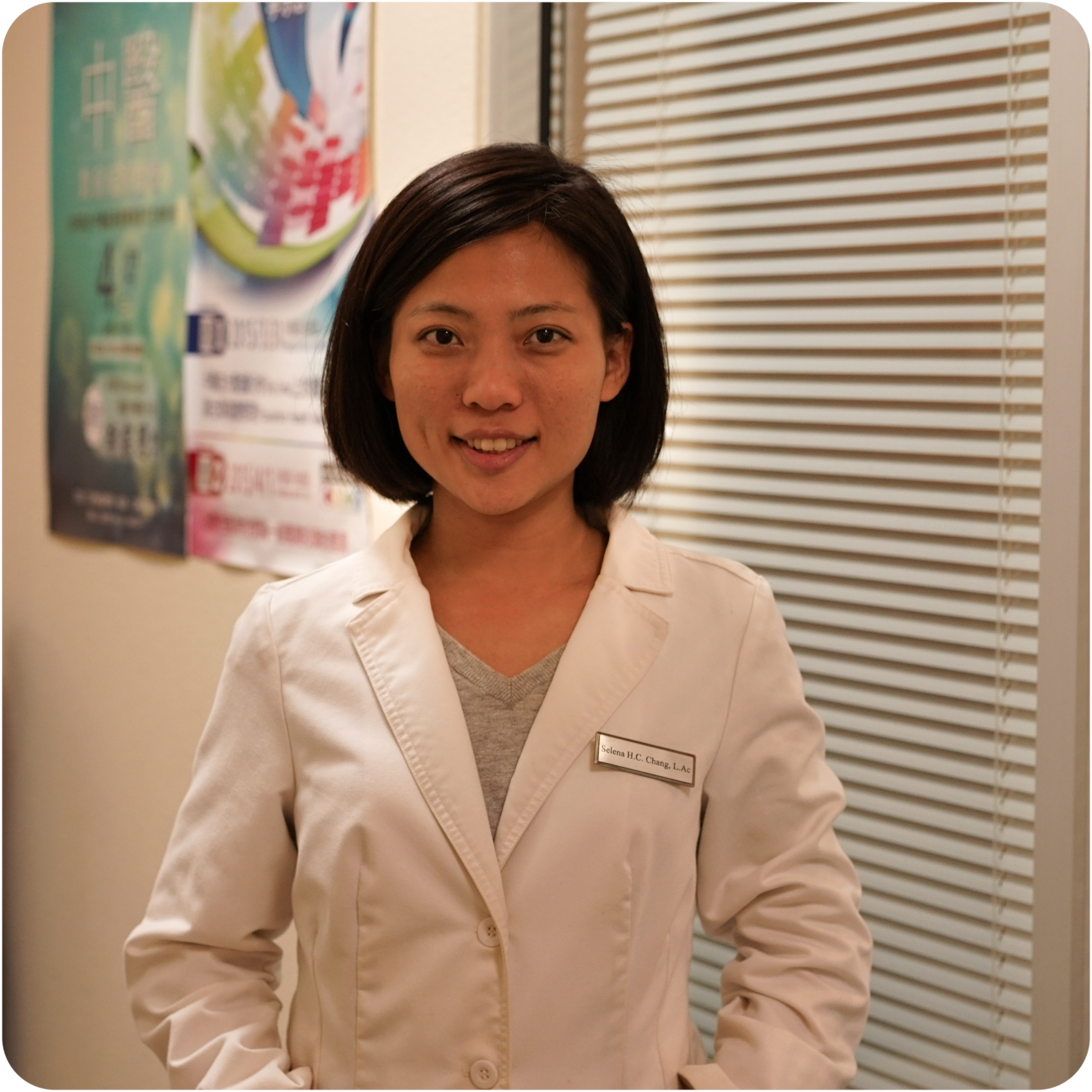 A few years after college, I mostly worked at museums and research institutions. Back then, I was healthy in general except for mild nasal allergy. It was until the time close to my departure for the U.S. that my allergy problem got escalated. On top of my worsened nasal allergy, rashes were developed all over my body. I coughed so badly every night that I was not able to lie down and sleep. The western allergy drugs did give me a temporary relief, but once I stopped taking them, all symptoms came back.  One day, my mother bought two bags of pears and stewed pear soup for me to drink. My months-long cough was miraculously cured after three days.
With that experience, I come to realize that good life is built upon good health. Chinese Medicine is an effective yet affordable way to keep our body in an internal balance. After I came to the U.S., I was so excited to find out there were many opportunities to further pursue my interests and gear my career path towards Chinese Medicine.
Along all these years, my choice of the Chinese Medicine has been the best decision I have ever made. Not only my allergies get better, I also got chances to help others. One patient called me  "Magician" because I cured her blurred vision and helped her read notes again. Her glowing smile as bright as sunshine keeps driving me to continue my adventure to explore the authentic Chinese Medicine and spread it to the benefits of more people!
---
Zachary Chang,  L.Ac,  M.S. in Chinese Medicine, B.S. in Biology
My interest in traditional Chinese medicine can be traced back to the time when I was a little kid. I was suffering from allergic rhinitis, a common yet annoying illness that had plagued my childhood with many unpleasant memories. The effort searching through western medicine was in vain, but the Chinese medicine saved me from the misery of the chronic rhinitis.
Perplexed by these two markedly different approaches to treat diseases, my quest to better understand how each worked started when I chose Biology Science as my major. After college, I worked with a renowned urology expert in Taiwan, getting involved with infertility research from a microscopic standpoint. With all my studies and clinical observations, I started to realize that something was missing about the western medicine approach. That doubt drove me throughout my four years' study at University of East-West Medicine. During the time, I was fortunate enough to be a clinic intern at youngQi. Dr. Lee's use of classic Chinese medicine in treating a wide array of diseases never ceased to amaze me.
As a licensed acupuncturist now, the holistic approach which I hold a firm belief in treating patients have benefited many around me over the years. "Superior practitioners treat before disease arises." My goal is to use the traditional Chinese medicine to treat, and more importantly to prevent!