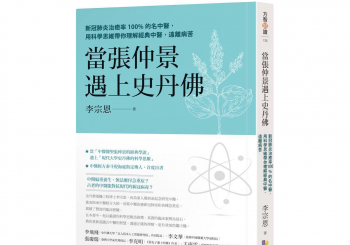 Dr. Lee's first book "When Ancient Medical Wisdom Meets Modern Scientific Mind" is released! Reserve a signed copy NOW!
About the book: The book talks about Dr. Lee's  life change, fighting COVID-19 with Chinese Medicine, 30+ patient cases of various diseases, challenges of modernizing Chinese Medicine, and many more!
ISBN13 :9789861755724
ISBN10:9861755721
EAN:9789861755724
Intro of Foreword writers:
Prof. Fei-Fei Li (李飛飛) – World leading expert in Artificial Intelligence, Co-Director of Stanford's Human-Centered AI Institute, Member of US National Academy of Medicine and National Academy of Engineering
Prof. Wen-Hua Lee (李文華) – World leading expert in Cancer Molecular Biology, former President of China Medical University, Donald Bren Professor of UC Irvine Biological Chemistry Department, Member of US National Academy of Inventors, Academician of Academia Sinica
Prof. Ching-Ray Chang (張慶瑞) – Renowned Physicist, former Acting President of National Taiwan University
Fred Li (李克明) – Renowned international business lawyer, former Chairman of Yuanta Venture Capital and Yuanta International Asset Management, best-selling book author
Dr. Larry Wang (王南雷) – Renowned entrepreneur and venture advisor, Founding CEO of Taiwan Innovation and Entrepreneurship Center
Foreword by Prof. Fei-Fei Li (李飛飛)
=====
"I'm honored and humbled to be asked to recommend my friend Dr. Andy Lee's new book. I find this book very unique. The voice of Dr. Lee is that of a deep Chinese Medicine clinician and expert, but also a rigorously trained technologist who has carved a very successful career in the heart of Silicon Valley before the daring transition to a new career as a Chinese Medicine doctor. This book is a pleasantly easy and smooth read, yet oftentimes beautiful and introspective.
The worlds of Chinese Medicine and modern science seem to be infinitely apart, just like the worlds of Taiwan and the Silicon Valley. Yet, in Dr. Lee and his words, we the readers are given a rare glimpse into this duality of existence of two possibly conflicting yet eternally revolving worlds.
The journey taken by Dr. Lee symbolizes the challenging path of the modernization of an ancient medicine, as well as a soulful reflection of the technologically defined modern lives. Dr. Lee is leading us to seek a new way of looking at both worlds. I'm intrigued by the journey that he is taking, and I sincerely invite the readers to join him on this journey together."
=====
Where to Order:

Pick up at youngQi Clinic: call 650.917.2355 to reserve a signed copy for US$15. Only limited quantity in stock at clinic. CALL NOW!!
Online order (worldwide shipment, available from 11/24):
https://www.booklife.com.tw/product-detail/05100135
https://www.books.com.tw/products/0010876376
https://www.kingstone.com.tw/basic/2014130475032
http://www.eslite.com/product.aspx?pgid=1001112702888918
https://www.sanmin.com.tw/Product/index/007923089
… and all other major online bookstores in Taiwan
eBook download (available from 12/01):
Readmoo、Kobo、Google、BookWalker、Pubu、Hyread、myBook (momo)、UDN讀書吧、Taaze讀冊、博客來、iBookstore (US/Europe)、Amazon