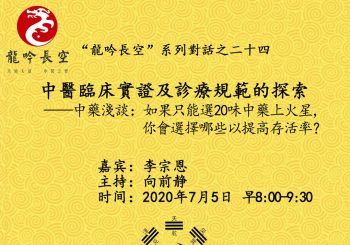 Time: Beijing local time  7/5/2020, Sunday 8:00am-9:30am,
or 7/4/2020, Saturday 5:00pm – 6:30pm PDT
How to join: Wechat QR code scanning
Language: Chinese Mandarin
Organized by: 中醫國際聯盟、中醫理論體系及臨床醫學研究中心
Cost: Free
Topic: A brief probe into Chinese Herbal Medicine – If we are only allowed to take 20 herbs to Mars, what will your choice be?
In this talk, Dr. Lee will explain his choice of the very 20 varieties of Chinese Classical herbs he is taking with him in the trip to Mars. It is a very interesting and engaging topic, especially for beginners, to first have an overall architectural concept before diving deeper into the myths of Chinese Herbology.  Choices made by different TCM practitioners reflect their understanding of Chinese herbs, and also indicate what types of diseases they usually treat and how emergent and critical those cases are. Come and join us to get to know more by scanning the following WeChat QR code. We are looking forward to your participation!